Back or Neck Pain?
The Top Endoscopic Spine Surgeon wants to help you get your life back today,

without a fusion!
My goal is to cure your back pain, not manage it.
I am a  specialist in minimally invasive spine surgery for back and neck pain. If you've been suffering from disc herniations, annular tears, spinal stenosis or other back pain problems, why wait any longer to get your life back? - Call the number above!
If you've been suffering from disc herniation, annular tears, spinal stenosis, lumbar stenosis, facet syndrome or other painful spine condition, it's imperative that you don't waste time because the longer you have a pain, the longer it can take to go away after treatment. "There are a number of alternatives that could help you get definitive back pain relief."
Let us help you return to a back pain-free lifestyle.
Thousands of patients are already enjoying the benefits of these treatments. Avoid a Fusion - Refuse to Fuse and call me first!

Contact us for a one-on-one consultation and learn:
What are my options?

How much does a minimally invasive surgery cost?

How would my procedure be step by step?

How is the recovery phase?

Find out if I'm a candidate for endoscopic laser surgery

Common Questions About Our Concierge Spine Services
Concierge Practice
The term concierge refers to a level of service and access that you can expect at our office. If you are a surgical patient in our office you will have access to Dr. Mork's personal cell phone number to resolve any urgent problems quickly. When you call our office during regular hours, you will be talking to a person, not an exchange with multiple numerical choices.Your immediate post-op care (dressing changes) is performed personally by Dr. Mork. 
There are three entities involved when doing a surgical procedure: facility, anesthesia and surgeon. Each insurance program will cover some portion of the costs of the facility, anesthesia and surgical fees and we obtain a pre-authorization with your insurance before scheduling any procedures. You will receive a proposal based on an analysis of your particular situation.
We do require payment for Dr Mork's fee for the recommended surgical procedure before the procedure is performed.  After your procedure,  we generate the required billing forms and submit them to your insurance company on your behalf. Whatever your insurance pays for a given procedure, that check will be remitted to you. 
Note that insurance companies will never reveal how much they will reimburse for a given procedure prior to the procedure.
Which insurances does Dr Mork accept?
We do not take insurance directly for Dr. Mork's fees, but if you provide us with your insurance information, we can check to see how we can best help you. The Surgery Center and the Anesthesiologist fees are covered by most insurance companies.
How much does it cost
The fee for our service based concierge procedures includes operative care. This includes direct access to Dr. Mork.
Please contact our staff for more information about our fees and options.
Where does he do his procedures
Foothills Surgical Institute
29300 Portola Pkwy.
Lake Forest, CA 92630
How far out is he booked
This is variable, usually a procedure can be scheduled within 2-4 weeks
This is a concierge practice and if you need something immediately, we will do our best to accommodate your needs. In some cases, we have been able to provide relief within three days.
How long has he been in practice
Dr. Mork began his practice in 1982
The first 16 years of his practice, Dr. Mork was a sports medicine surgeon, specializing in arthroscopy.  
Beginning in 1998, he focused his endoscopic experience on minimally invasive spine surgery. To date, Dr. Mork has completed over 8,000 minimally invasive procedures.
What is the recovery time to return to my activities
99% percent of people could drive a car the day after surgery, even though it's not recommended.
Most people are able to return to light activities within a few days. More strenuous tasks generally need about six weeks.  Dr. Mork will provide detailed instructions and personalized consultations to guide you through your recovery.
It's best to go slowly after surgery and stay comfortable; changing positions is great.
What do I need to do to get a phone consult from Dr. Mork
Dr. Mork would like to examine your MRI or CT scan and report (completed within one year)
Click Here and look in the upper right corner and look for "Upload Studies". Follow the instructions to upload your MRI or CT scan. After Dr Mork has reviewed your images, he will determine if he can assist with reducing your pain. If Dr Mork recommends a phone consultation you will be contacted by one of our patient coordinators to schedule an appointment.

Dr. Mork has a special disc reader that lets him look at your MRI while you are discussing your problem during the phone consultation.
 Call our office and talk to the office staff to get an appointment to talk to Dr.  Mork and, if needed, help sending your report to the office.
There will be a nominal fee of $100 for the direct phone consultation with Dr Mork.

How long do I need to stay after surgery
 This depends somewhat on your procedure. A typical timeline:
 Post-op Day 1 - Dr. Mork visits you and checks your dressing.
 Post-op Day 2 - Day of rest and recuperation.
 Post-op Day 3 - Recommend a day of rest, but could leave area.
 Post-op Day 4 - Can depart or have another day of rest.
Does Dr. Mork use a laser
Dr. Mork has used the laser in over 7000 cases. The laser is used primarily for soft tissue removal, it does not cut bone very well. Over the years he has found that other tools, like radiofrequency probes do a better job on soft tissues, so the laser is used less frequently. The are some cases(Cervical Facet Syndrome) where the laser is the best option, so of course, it would be used in these instances.
Degenerative Disc (disease)
Disc Herniaton
Sciatica
Pinched Nerve
Spondylolisthesis
Facet Pain
Annular Tears
Stenosis
Foraminal Stenosis
Disc Herniation
Facet Syndrome Pain
Failed Back Surgery
Degenerative Disc (Disease)
Headaches
Pinched Nerve
Whiplash
Facet Pain
Arm Pain
Shoulder Pain
Stenosis
Foraminal Stenosis
Disc Herniation
Facet Syndrome
Failed Fusion Surgery
Refuse to Fuse Call Dr. Mork
There are a number of alternatives that could help you get definitive back pain relief. Let us help you return to a pain-free lifestyle. Get Your Life Back Today!
Endoscopic Spine Surgery Specialist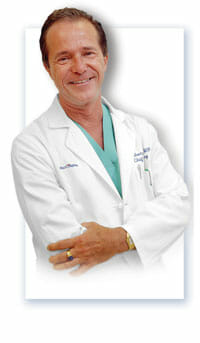 Dr. Mork has personally performed more than 8,000 endoscopic spinal surgeries.  He has also designed some of the specialized tools used in laser spine surgery and is constantly pursuing the improvement of spinal care.
Dr. Mork has been instrumental in developing some of the current endoscopic spinal surgery techniques.  He is one of the originators and wrote or co-authored 11 peer-reviewed articles on the topic of endoscopic spine surgery techniques available today. He was the co-founder of Microspine and is a national instructor for Richard Wolf, the largest producer of endoscopic spine equipment in the world. While others copy his techniques, he is always moving forward.
Dr. Mork represents the future of endoscopic laser spine surgery.  He has even helped patients with prior failed spine surgeries and fusions.
Unlike most surgeons who operate based on just the MRI findings, Dr. Mork's diagnostic method will determine exactly what your problem is so that it can be resolved,  thus minimizing guesswork.  It may not be enough to plan a spinal surgery on the MRI alone.  Spinal mapping may be very helpful to obtain the diagnosis.
Dr. Tony Mork operates a concierge practice, emphasizing education, the diagnosis, communication, first class care and cutting edge technology.  Dr. Mork is committed to his patients, their care and their desire to be pain free.

Avoid Spine Fusion start living your life Pain Free
I have performed over 8000 spine surgeries and have trained many of the top spine surgeons, read the reviews from many of my patient success stories! Get Your Life Back Today!